Dear Parishioners,
You may recall that in June last year we did not renew our planned giving for the financial support of our parish due to Covid.
This year I encourage all parishioners to now renew your support. Our Parish is the focus of our faith life, our mission and outreach as disciples of Jesus. It is in these different times particularly, that we support not only each other in our Church community but our wonderful Parish School, St Matthews and our wider community.
Your financial support is the backbone of our parish activities and outreach, some of which can often go on quietly behind the scenes.
We have a wonderful group of ladies who meet in the Parish Centre each week and apart from the beautiful craft-work they produce, it is a tremendous support network for ladies, and it is growing. The sale of their work supports the wider community by way of donations to organisations such as CanAssist; they also donate to the local schools to support student families who may be struggling from time to time. We have a parishioner Prayer Partner link with St Matthews Year 12 students in the lead up to their HSC exams. Parishioners and students gather for Mass followed by a lunch provided by the parish in conjunction with Pastoral Council.
Our Parish supports our youth who wish to attend diocesan events, such as Rise (on this week), Risen and the Catholic Youth Festival.
Our outreach to the sick and housebound in our parish, our hospital and nursing homes brings great spiritual and emotional comfort to many and helps these people to feel connected to our parish. We support the great work of St Vincent de Paul through our parish resources. We look forward to our next community light lunch in a few weeks time, after our 12.30pm Friday Mass. Our next Men's gathering is in its planning stage for August.
Our parish nourishes and support the growth in faith and love of each parishioner beginning with the support of young parents in their baptism preparation, through the steps in faith from the parish sacramental programs for Reconciliation, Eucharist and Confirmation, to the many young couples being prepared for marriage. The parish has continued to nurture our faith through our sharing of the scriptures in our Word and Faith group. Your financial support helps us do all this and more, so thank you very much.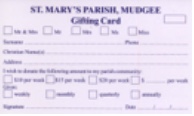 If you are able, could you please complete a new Gifting Card, and put it in the collection plate or drop it into the Parish Office or post it to us. This will help to update our parish records and maintain our Planned Giving records, which are a guide on projected income for future planning.
There are payment options on the Gifting Cards, so contributions can be made via the weekly Planned Giving Envelopes, credit card or direct debit. I would encourage you towards contributing via direct debit or credit card system. Please ring our Parish Office for any assistance.
As our Parish Finances have taken quite a hit in the last twelve months, I thank you very much for your support this year which will allow our wonderful parish to continue to support, spiritually nourish and build up our community and so carry on the work of Jesus.
God Bless you.
Fr Owen